FASHION TRENDS-2015
Men's Top Color Trends S/S 2015
View Fashion Snoops' favorite Menswear color palettes for Spring / Summer 2015: New Neutrals. There's a new group of colors that keep showing up each season, no matter spring or fall. These masculine hues that include indigo blue, dry sage, earth brown, heather blue and vineyard make up a group that has quickly become the "new neutrals." This super-saturated palette is easily paired back to brights, pastels, or even true neutrals for a refreshingly complicated experiment in styling that resonates with today's contemporary menswear customer.
The New Neutrals Color Palette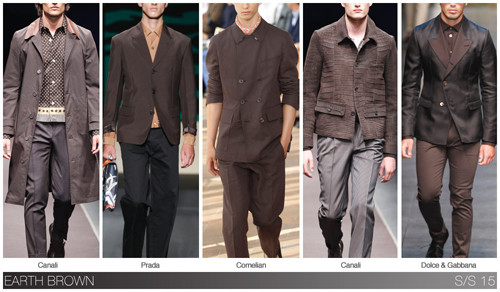 There's no denying that all shades of brown have shifted to be a more mainstream option for classifications like outerwear, knits and tailored clothing. After two seasons of rich shades of chocolate and hazelnut, the key brown for S/S 2015 is rooted in the Earth - with saturated shades of red as an undertone.
DRY SAGE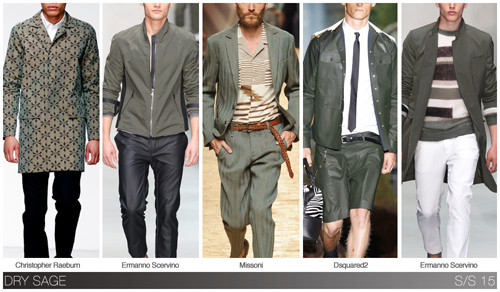 Utilitarian influences and uniform-inspired silhouettes are nothing new to menswear, so shades of olive green always hold a place in seasonal collections. This shade has transitioned from being slightly blue-based in S/S 2014, to warm, yellow-based pea green in F/W 14, to finally landing as a dry sage for S/S 2015. The washed-out appearance is more in keeping with the season's relaxed fits and techno materials.
INDIGO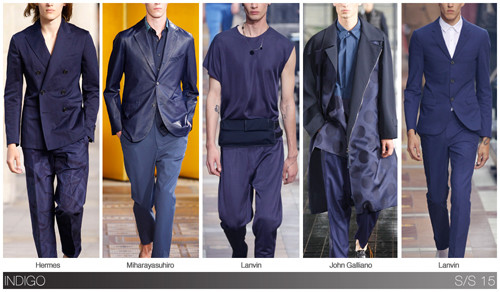 Inky shades of navy blue and indigo have become the must-have option for all collections and markets - no matter the season. The "almost black" shades of S/S 2014 and F/W 14 lighten up just a bit for S/S 2015, but still maintaining a saturated look. Multiple shades of indigo seem contemporary when styled together as a monochrome look. For S/S 2015, there's also a subtle hint of purple under the rich shades of blue.
HEATHER BLUE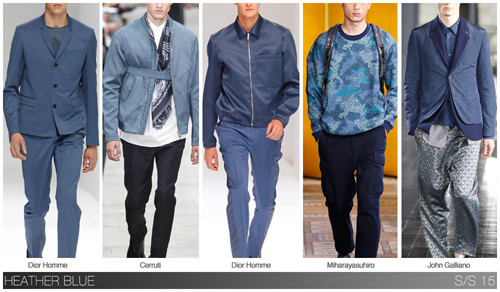 Industrial-inspired neutrals have moved from being fashion accent colors to all-season options. The steel blue of F/W 14 lightened up for S/S 2015, with more hints of grey thrown in to look even more utilitarian. The color plays up lustrous surfaces on fabrics like nylon, cotton poplin, and silk.
VINEYARD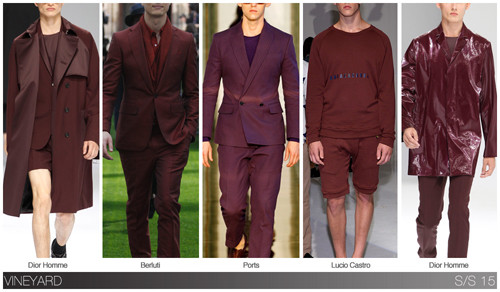 Rich and juicy shades of claret and wine have been around for several seasons, but they're quickly transitioning to be more commercial for knits and jackets. After the super-saturated colors in F/W 14, the vineyard of S/S 2015 is more multi-faceted with novel currents of pink and purple fused together.
Women's Color Forecast S/S 2015
Take a look at the must have colors, our Top 10 for the women's market as forecasted by Fashion Snoops and confirmed by the recent runways. For Spring / Summer 2015 we've divided our women's colors into families by tones, including Barely There Powders, Desert Neutrals, Kitschy Midtones, and Regal Darks.
Barely There Powders present the most dominant color family this season, and update icy tones from the past few seasons. Our second favorite family is Desert Neutrals, which stand out because of their tonal richness. Kitschy Midtones confirm our Visionary color forecasts, while Active Brights remain at the forefront this season in intense casts. Regal Darks speak to the continuation of jewel tones from Fall with hues like bottle green and burgundy.
AQUA
GRAPEFRUIT
Grapefruit comes in as a new color this season, particularly relevant in Milan collections.
RUST
Rust presents itself as the most forward fashion color in Desert Neutrals.
MARIGOLD
CUSTARD
Pastel yellow is whited out into a new custard shade.
LAVENDER
As the most saturated powder shade, lavender progresses from last season.
SHAMROCK
A new green on the horizon this season is a very saturated shamrock shade.
POPPY
Red is still very much a must-have color, with poppy providing the brightest casts.
ELECTRIC BLUE
Electric blue has already achieved popularity as a commercial fashion color, and it continues forward this season.
BOTTLE GREEN
Electric blue has already achieved popularity as a commercial fashion color, and it continues forward this season.
Women's Accessories Trends & Pattern S/S 2015
A forecast from Trend Council show Accessories continuing to take an extra step in trend, and for Spring Summer 2015 we see an increase in Pattern applications to all accessory product categories with a focus on more whimsical expressions or childish artwork, ethnics and text messages. On view, trend themes which range from Art Class.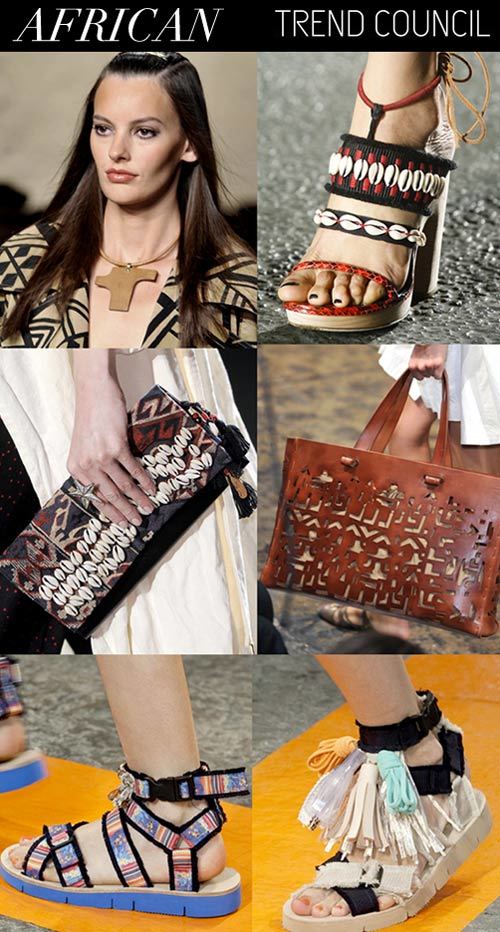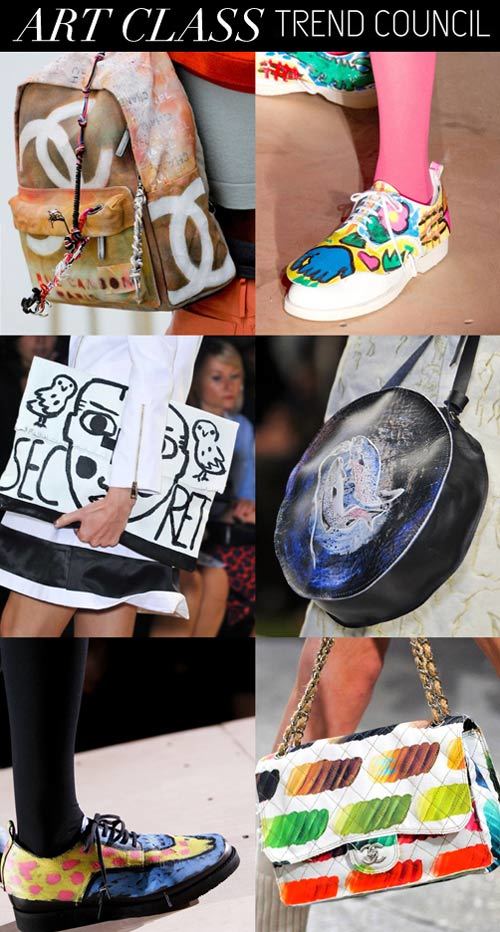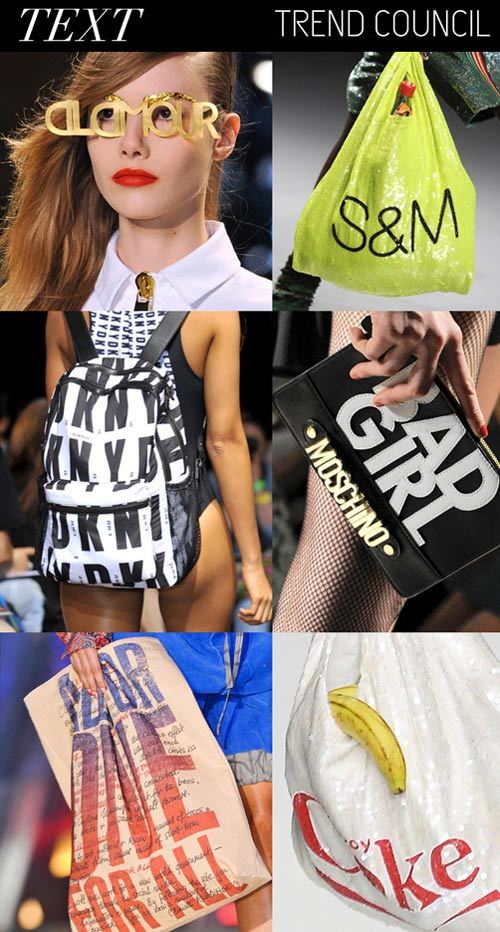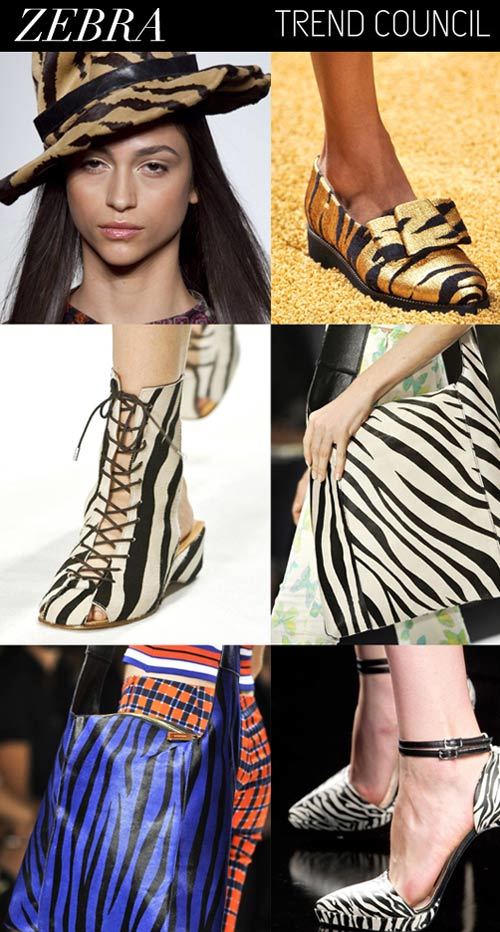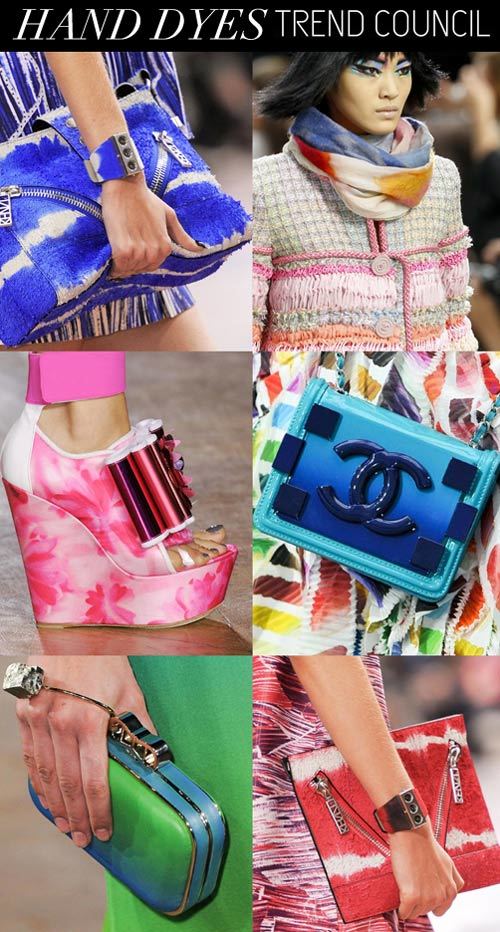 Women's Print Trends S/S 2015 Art Attack!
The arrival of the Spring/Summer 2015 season triggers a creative transformation in fashion, as bold, colorful prints feel inspired, say the trend analysts at Trendstop. Strong Brush Strokes lend a vibrant energy to statement designs, while Art Movement Mix fuses references from iconic styles across time. The report takes a first look at two key print and pattern trends for the women's apparel and accessories markets.
Brush Strokes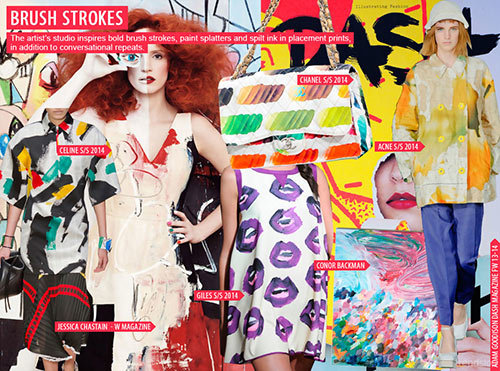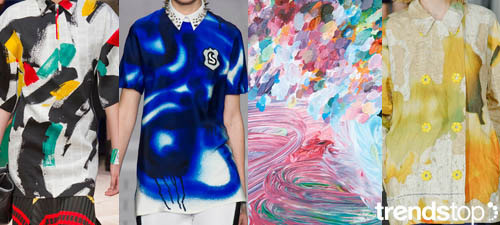 APPAREL
Taken directly from the artist's studio, bold brush strokes, paint splatters and ink spills appear in either placement or all-over applications. Loose-fit Celine dresses create the look of walking works of art, as Viktor & Rolf adopt a more urban vibe with spray paint scrawls and Acne jackets come saturated in watercolor splotches.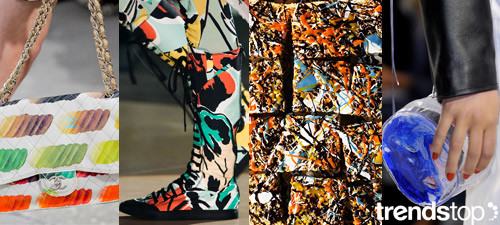 ACCESSORIES
Over in accessories and footwear, white grounds provide a canvas-like base to set off colorful designs. Chanel's iconic quilted bag resembles a paint palette, while Vivienne Westwood hi-tops express a favela street art flavor. Claire Barrow works with a DIY feel, as seen in a surreal illustrated face that peeks out from a blue paint panel.
Art Movement Mix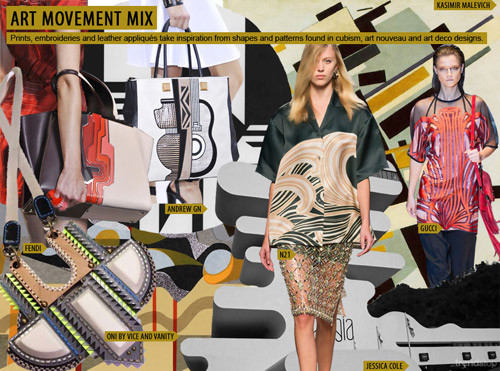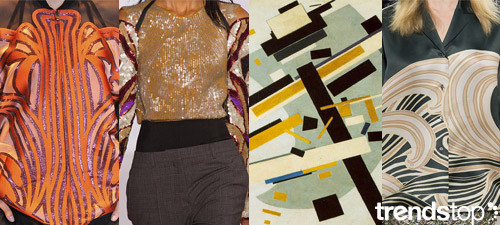 APPAREL
This inspired multi-application trend fuses aesthetic elements from key art movements like Cubism, Art Noveau and Art Deco, as seen in print, embroidery and applique. Metallic-defined lines express a '20s feel on Gucci shirts, while colored sleeve panels glitter on sequined Maison Martin Margiela designs. Swirling pattern placements stand out on black at N21.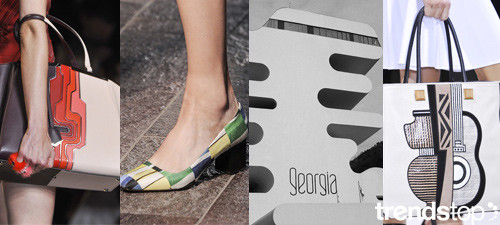 ACCESSORIES
Similar artistic shapes and patterns are combined in Spring/Summer 2015 accessories and footwear. Fendi bags incorporate tonal linear panels, as multicolored geos on white make Paul Smith shoes resemble chic canvases. Andrew GN totes fuse a variety of graphics for a stark statement in monochrome.